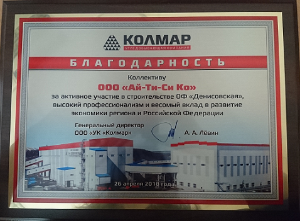 ITC-Electronics received acknowledgement for its professionalism
On the occasion of opening of the "Denisovskaya" concentrating plant ITC-Electronics was solemnly presented with a Letter of Gratitude.
On 26th April 2018 a new production of coking coal was launched at the concentrating plant completed with the state-of-the-art powerful equipment, Denisovskoye deposit, Neryungri district, Yakutia. ITC-Electronics supplied equipment and materials and installed and commissioned power supply, lighting and automation systems, security and fire alarm systems, control systems, HV and water supply of the plant facilities.
The company "Kolmar" in its Letter of Gratitude marked high professionalism of ITC specialists, their active involvement in construction process of "Denisovskaya" plant and significant contribution to the development of the economy in the region.
We express our gratitude to the employees for the successful implementation of the project of the Denisovskiy mining processing plant, "Kolmar" coal mining company. The criteria for success include a stage-by-stage planning, fulfillment of tasks on time, teamwork and high professionalism.