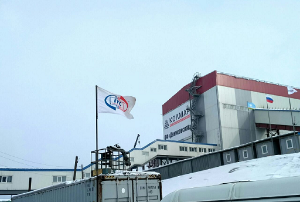 "Denisovskaya" concentrating plant launched.
On 26th April 2018 a new production of coking coal was launched at the concentrating plant completed with the state-of-the-art powerful equipment, Denisovskoye deposit, Neryungri district, Yakutia. ITC-Electronics supplied equipment and materials and installed and commissioned power supply, lighting and automation systems, security and fire alarm systems, control systems, HV and water supply of the plant facilities. ITC-Electronics has successfully implemented its largest project, and our company has already signed a number of contracts for further engineering works for Denisovskiy GOK (mining and processing plant).
Sergey Mochalnikov (representative of the Russian Ministry of Energy), Yevgeny Chekin (Head of the Republic of Sakha), Artem Levin (General Director of "Kolmar"), and Anna Tsivilyova (Deputy General Director of "Kolmar") launched the plant by pushing the start button to obtain the first coal concentrate. "Denisovskaya" concentrating plant has a capacity of 6 million tons of super-hard-cleaned coals per year and provides 400 new jobs for Yakutia citizens.
Anna Tsivilyova, Deputy General Director of "Kolmar" underlined that "Denisovskaya" plant is an unprecedented project; the plant was constructed in record-breaking time - just 10 months!
Sergey Mochalnikov, Director of the Coal and Peat Department of the Ministry of Energy noted that he was glad to attend one of the major facilities of the Russian coal industry. He is sure that the product of the plant – cleaned coking coal - will become a valuable raw material for the ferrous metal industry. He also expressed wishes on behalf of Alexander Novak (Minister of Energy) to the "Kolmar" team of further success and fulfillment of all plans.