Company Foundation Day – 2018!
«ITC-Electronics» celebrates its 26th year since foundation!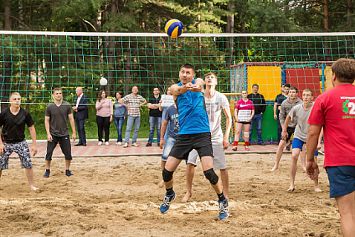 On 28 July ITC-Electronics employees celebrated the company foundation day with motto "OPEN AIR ITC".
The party in Hotel&SPA «Borvikha» included banquet, sports and entertainment program.
OPEN AIR ITC started with an interesting quest in Akademgorodok, where the company employees joined into teams to solve different challenges with the help of ingenuity, intuition, creativity and knowledge.
Then four teams took part in volleyball tournament. Let us congratulate the "Snow White and Seven Dwarfs" team with the victory (N.P. Dovydova, D.I. Shtaudinger, N.V. Babak, I.U. Lyapin, O.S. Lysenko, D.I. Perepelkin and A.V. Litvinovsky). All participants got presents and challenge cups.
The official part was started by Georgy Pogiplov, General Director, who congratulated all employees and wished stable growth and achieving new goals. Traditionally highly-efficient employees were presented with silver and gold badges for their commitment to the Company's policy.
Participants enjoyed master classes on cooking fish soup, grilled lamb, burgers and shaking cocktails. The performance of the Patti Rockets band appealed to everybody.