The project for the leader of the Russian mining and metallurgical industry was successfully completed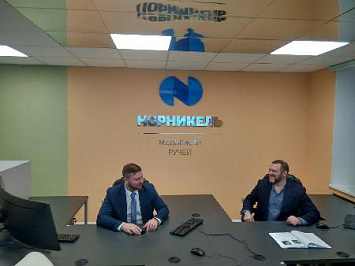 The Company completed a major project. In November 2019, the reconstruction project "Dispatcher room of Medvezhy Ruchey LLC", a division of PAO GMK "Norilsk Nickel", was completed more than a month ahead of schedule.
ITC-Electronics acted as the general contractor for this project and coped with the task. A full cycle of work was carried out from the preliminary design to staff training, including design, supply of equipment and materials, construction, installation and completion works, including the creation of the corporate style of premises, installation of equipment, commissioning, and staff training. As a result of the works, the functioning of power supply, water supply, drainage, ventilation and air conditioning systems, as well as low-current communication lines were ensured.
During the implementation of the project, the most modern engineering solutions were used:
- Installation of a false floor for hidden laying and easy maintenance of engineering communications to the dispatcher`s workstation;
- Provision of category I power supply by laying a new cable line from the existing TP, and installing in the building a General Electric 40kVa UPS and batteries, providing autonomous operation of the control room technological equipment for more than 24 hours;
- Installation of antistatic floor covering using FORBO Emerald Standard linoleum;
- Supply, installation and commissioning of Video wall equipment with LCD AMC panels on professional Samsung matrices with the implementation of the existing Dispatching system.
Special features of the project are the working conditions in the far north and complex logistics. ITC-Electronics employees took into account all the wishes of the demanding customer, fulfilled all obligations ahead of time and transferred the facility into operation.
We thank the employees of Norilsk Nickel for their trust in the project implementation.