TAKING ORDERS IN ANY SHAPE OR FORM CONVENIENT FOR YOU

You can send an order by fax or come to the office nearest to you. We have created a network of offices to be closer to our clients!

OPEN COMMUNICATION

We have created the Open Communication system specifically for you, organizing visits to manufacturers' sites and technical seminars for clients' staff.

FAST PROBLEM RESOLUTION

To solve problems efficiently, you can have mobile phone contacts not only of your personal Manager but the Managing Director or Commercial Director as well.

TECHNICAL SUPPORT AND SERVICES

Company staff have all the necessary information on manufacturers and market sectors. In addition to taking part in own educational programs, they also attend technical seminars of major international manufacturers of electronic components. Company experts will always be happy to provide qualified consultations on all issues of choosing and using products, including replacement of obsolete imported equipment. You will receive answers to all the technical questions you might have. Our automation experts will help you set up and install an automated process control system at your enterprise. Additionally, you will receive recommendations from manufacturers on using their products, methodologies of calculating coordination schemes and installation of equipment, information on certification and probable ways of cutting costs of your project.

INFORMATIONAL SUPPORT FOR CLIENTS

Specially for you the company manufactures product catalogs, including catalogs in electronic form. You may also request to obtain catalogs of our manufacturers. At our website at  WWW.ITC-ELECTRONICS.COM you will receive detailed information about the Company, its manufacturers, receive the product catalog and learn about the news and events in the company, with precise and reliable information on changes on the world market of electronic components and automation devices. Our website offers professional online consultations of Company experts. 

EXCELLENT SERVICE QUALITY!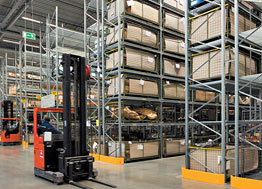 Cooperating with us, you receive guarantees of order delivery within the coordinated time. Your order can be delivered to your office within 36 hours after crossing the customs border. Fast response and high quality services for our clients are guaranteed by:
Availability of a warehouse of total area of 10,000 square meters, for more than 10,000 types of products, with cutting-edge equipment for processing, assembling and monitoring orders. The warehouse has been fully automated.

Our own software expedites the work of the warehouse with the help of the bar coding system. The products are laser-marked and labeled.

Our clients are offered systems of scheduled purchases and a product reservation on the warehouse. Specially for industrial enterprises with serial production - an annual supply of components and equipment will be reserved at the manufacturers' warehouse. Own software will guarantee reliability of your order's delivery, tracing its current position.